To rent- 1,700 m² business premises in Saint-Vit
To rent- 1,700 m² business premises in Saint-Vit
Saint-Vit (Doubs - Bourgogne-Franche-Comté - France)
Commercial Properties

Reference: AFR15255
FOR RENT
Rent excluding charges: 16.00 € / m2 / year

To rent, business premises in Saint-Vit, near Besançon in the Doubs, in the Bourgogne Franche Comté region. The premises have a total surface area of 1,700 m², on a total land area of 6,000 m². The premises have all the characteristics to attract your company. The premises to rent are in very good condition and have sectional doors, parking. These premises are ideal for an industrial, logistics, craft or service activity.
Description of the property
Rental of business premises of 1,700 m² in Saint-Vit, in the Doubs (25)
In Burgundy-Franche-Comté, discover the opportunity offered by these business premises. Ideally located, less than an hour from Besançon, this site in very good condition offers your company an ideal location for the development of your activities. A car park is available on the site. Contact us for any information you may require.
Business premises ideally located near Besançon
These business premises for rent guarantee you an ideal location near Besançon.
Less than 50 km away:
Dole-Tavaux airport
Besançon Franche-Comté TGV station, Besançon Viotte and Dole train stations
Within 100 km :
Dijon-Longvic airport
Dijon TGV station
The strengths of the sites
They offer a 4m ceiling height. The premises are also equipped with sectional doors.
What is the budget for these premises?
The rental price is €26,950/year, i.e. approximately €16/m²/year.
If these premises meet your needs, we are at your disposal to set up your real estate project. Our teams are at your disposal for any further information.
If you are considering international expansion and need some advice, feel free to contact us. Our multilingual team can help and advise you on the best location suited to your needs through our excellent knowledge of location and local economic infrastructures. Our services are free so get in touch to start your expansion!
Technical features
Multimodality

Road

Controlled temperature

Not defined

Sectional doors

Yes

Parking area

Yes
Financial conditions
Rent excluding charges

16.00 € / m2 / an
Access to the area
Motorways

< 20 min.

A36

Regional trains, tramway and metro

Between 20 min and 1h

Besançon-Viotte train station

High-speed trains

Between 20 min and 1h

Besançon Franche-Comté train station

Airport

Between 20 min and 1h

International airport

Between 20 min and 1h

Dole-Besançon-Dijon airport
Project manager
Project manager for the territories

+33 (0)1 78 76 78 00
Key information
Type of property

commercial properties

Last update

24/11/2021

General condition of the property

very good state

Land Acreage

6000.00 m2

Minimum area

1700.00 m2

Maximum area

1700.00 m2

Effective height

4.00 m
Similar properties
See the ad
Type of property

commercial properties
Saint-Vit (Doubs), France
Business sector

-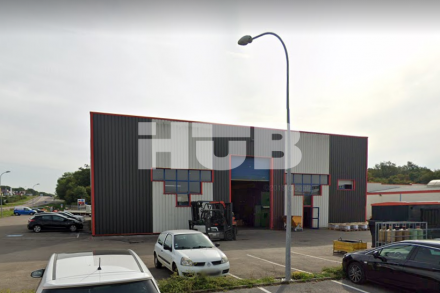 See the ad
Type of property

commercial properties
Saint-Vit (Doubs), France
Business sector

-
Project manager
Project manager for the territories

+33 (0)1 78 76 78 00