To rent- 2 floors of offices of 285 m² each in the centre of Calais
To rent- 2 floors of offices of 285 m² each in the centre of Calais
Calais (Pas-de-Calais - Hauts-de-France - France)
Office

Reference: AFR15183
FOR RENT
Office space of 285 m² to 570m² to rent in the city centre of Calais, Hauts-de-France, with immediate availability. The premises are perfectly located, accessible by city bus, and benefit from numerous services in the vicinity: bank, post office, shops, parking, restaurants, concierge service, etc. In very good condition, the premises offer features such as heating, a cafeteria, a kitchen, disabled access and fibre optic broadband.
Description of the property
To rent- 2 floors of offices of 285 m² each in Calais, in Pas-de-Calais (62)
Are you looking for somewhere to set up offices? We propose an opportunity in the Hauts-de-France region. In lots of 285 m², this site in good condition has fibre optic broadband. Less than an hour from Dunkirk, the position is perfect for the development of your activity. Contact our teams for all extra information.
Ideally located offices in Calais
These offices to rent guarantee your accessibility by boat, train and plane as well as a perfect location in Calais city centre. These premises benefit from the attractiveness of Dunkirk.
Less than 20 km away:
Calais-Dunkirk airport
Calais Ville and Calais-Fréthun TGV train stations
Port of Calais
Features of the premises
These premises have disabled access with a car park available outside. Two office floors of 285m² each, both have a fibre optic cable for high-speed internet access. They have air conditioning and electric heating (individual). The premises are protected against fire thanks to the presence of fire alarms. The security of the premises is ensured by alarms. These premises can be in partitioned or open space.
What is the price for these premises?
Are you interested in these offices and would you like to know more about them? We are available to provide you with information on the rental conditions of this property.
Information on the lease and answers to your other questions regarding this ad will be specified by our professional partner.
Technical features
Heating

Individual Electricity

Air conditioning

Yes

Controlled temperature

Not defined

PRM adapted

Yes

Parking area

Yes

Broadband Internet

Optical fibre

Secured building

Yes
Financial conditions
Access to the area
Motorways

< 20 min.

Immediate proximity to the A16

Regional trains, tramway and metro

< 20 min.

5 minutes by car to the SNCF train station

High-speed trains

< 20 min.

15 minutes from Calais-Fréthun train station

Airport

< 20 min.

20 minutes by car to Grand Calais airport

International airport

> 1h

Lille-Lesquin airport

Public transport in the area

Yes
Project manager
Project manager for the territories

+33 (0)1 78 76 78 00
Key information
Type of property

office

Last update

17/09/2021

General condition of the property

very good state

Minimum area

285.00 m2

Maximum area

285.00 m2
Similar properties
See the ad
Type of property

office
Calais (Pas-de-Calais), France
Business sector

-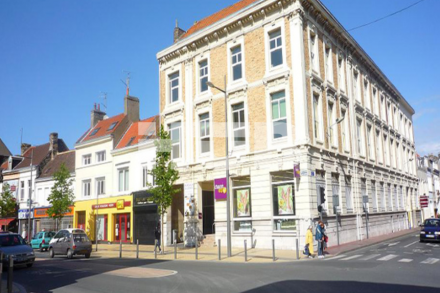 See the ad
Type of property

office
Calais (Pas-de-Calais), France
Business sector

-
Project manager
Project manager for the territories

+33 (0)1 78 76 78 00