Warehouse of up to 2,700m2 for rent in Calais
Warehouse of up to 2,700m2 for rent in Calais
Calais (Pas-de-Calais - Hauts-de-France - France)
Warehouse

Reference: AFR13004
FOR RENT
This warehouse with a total area of 2,700m2 is available to rent, and is located in the commune of Calais in the department Pas-de-Calais in France. The whole property covers an area of 13,000m2 and is made up of two units of 1,200m2 each, as well as one unit of 300m2. The site is in a great geographical location, with highways, Calais port and Calais airport all nearby.
Description of the property
Between 300m2 and 2,700m2 of warehouse space available to rent in Calais, France
Find out more about this warehouse in the Hauts-de-France region. The site is located less than an hour from Dunkirk, making it particularly suitable for companies that work with both the UK or Ireland and Belgium. For information about the price of this warehouse, please get in touch with our team.
Warehouse available in Calais
Are you looking to set up your business in France? This warehouse for rent benefits from easy airport, port and rail access, as well as an excellent location near Dunkirk.
Less than 20km away:
Calais-Dunkirk airport
Calais Ville and Calais-Fréthun high-speed train stations
Port of Calais
Caffiers, Beau Marais and Pont d'Ardres train stations
Less than 50km away:
Boulogne high-speed train station
Port of Boulogne-sur-Mer
Pont de Briques, Marquise-Rinxent and Bourbourg train stations
Less than 100km away:
Le Touquet airport
Béthune, Étaples-Le Touquet and Hazebrouck high-speed train stations
'Grand port maritime' port of Dunkirk
Auchy-lès-Hesdin, Renescure and Montreuil sur Mer train stations
About the warehouse
Available for rent, this warehouse of 2,700m2 in situated in the commune of Calais in northern France. The warehouse can be divided and is made up of three adjoining units: 2 of 1,200m2 each and 1 of 300m2. The property is built on a plot of 13,000m2 and has the following features: 20 parking spaces for light-duty vehicles, 2 sectional doors for HGVs, and secure HGV access. The warehouse is also fitted with fibre optic broadband, disabled access, and connections to water, electricity and gas.
Pricing
Our professional partner will provide you with the rental price and additional information about the lease agreement and will also answer all your questions regarding this offer.
Technical features
Multimodality

Road

Controlled temperature

Not defined

Sectional doors

Yes

2 sectional doors for HGVs

Parking area

Yes

Broadband Internet

Optical fibre

Secured building

Yes
Financial conditions
Classified facility

NOT DEFINED
Access to the area
Motorways

< 20 min.

A16, A26

Regional trains, tramway and metro

< 20 min.

Calais Ville train station

High-speed trains

< 20 min.

Calais Ville train station

Airport

< 20 min.

Grand Calais airport

International airport

< 20 min.

Grand Calais airport

Public transport in the area

Yes
Project manager

Project manager for the territories

+33 (0)1 78 76 78 00
Key information
Type of property

warehouse

Last update

24/03/2021

General condition of the property

good condition

Land Acreage

13000.00 m2

Minimum area

1200.00 m2

Maximum area

2700.00 m2

Effective height

6.00 m
Similar properties
See the ad
Type of property

warehouse
Calais (Pas-de-Calais), France
Business sector

-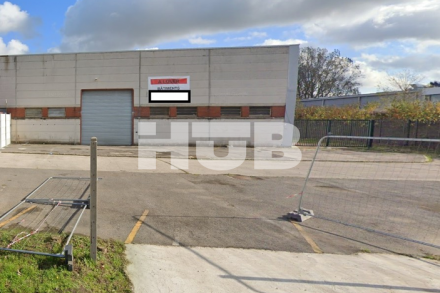 See the ad
Type of property

warehouse
Calais (Pas-de-Calais), France
Business sector

-
Project manager

Project manager for the territories

+33 (0)1 78 76 78 00