Setting up in
Saint Germain Seine Valley
Setting-up locations and regions : Saint Germain Seine Valley
Set up your business in Saint Germain Seine Valley, Paris Region
What makes Saint Germain Seine Valley an ideal location to do business in France?
Located in the Parisian region, Ile-de-France, Saint Germain Seine Valley is a strategic location close to Paris.
You can get to Paris quickly and easily from the Saint Germain Seine Valley area, which includes twenty towns and represents 100,000 jobs. This attractive location on the Seine river benefits from 50km of riverbank and 5,000 hectares of national forest, as well as an impressive cultural and architectural heritage. Saint Germain Seine Valley has a varied landscape, with both urban and natural green and wooded areas.
Saint Germain Seine Valley boasts multiple strategic advantages and important local public and private economic players:
A strategic location close to Paris: 4 to 13 miles west of Paris, 2.5 to 11 miles to la Défense
Exceptional accessibility via rail, road and river: dense rail & road transport network with 3 major motorways, 16 train stations, 20 minutes to Paris by RER express train, easy access to Orly and CDG airports
The local population is younger than the national average, with an above-average level of higher education
In Saint Germain Seine Valley, for every 1000 inhabitants, an average of 9.6 companies are created, compared to the national average of 8 companies created per 1000 inhabitants.
Saint Germain Seine Valley is home to over 20,000 private sector companies.
The area has an entrepreneurial spirit and attracts companies with high added-value and international subsidiaries, thanks to its pleasant surroundings and renowned multicultural schools.
The local international ecosystem is well developed, welcoming international companies and expat families for over 60 years. There are 22 international schools which offer teaching in 14 languages and an English-language business club. A high proportion of local elected representatives are former expats themselves of senior executives in multinational companies.
Impressive cultural and historical heritage with world-famous sites like the Castle of Louis VI and Archaeology Museum with its spectacular garden.
Multiple multinationals are present locally. They find the local environment to be pleasant for their employees and their families.
46% of Saint Germain Seine Valley is made up of natural spaces, forests and agricultural land; if parks and gardens are included, 60% of the local area constitutes of open space, allowing many possibilities for walks, hikes and other outdoor sports.
Where can I set up my business in Saint Germain Seine Valley, Paris Region?
Business parks, offices and industrial land for setting up your business near Paris
Saint Germain Seine Valley has many available real estate and land offers. Real estate costs and taxes are competitive for France and for the Parisian region: office space costs over 50% less than in Paris and la Défense.
The local economic development service provides means and funds as an incentive for creating a company locally. The local authorities in Saint Germain Seine Valley are dedicated to facilitating companies' development and creating jobs. They also create and optimise business parks, incentivise the creation of new companies and support local businesses.
4 business incubators and multiple business centres are located in Saint Germain Seine Valley near Paris:
The Sartrouville business incubator, home to entrepreneurs and developing companies from all business sectors
The Bezons business incubator
The Louveciennes business incubator, a workspace and registered address for young companies, dedicated to entrepreneurs, startups and small businesses
The Montesson business incubator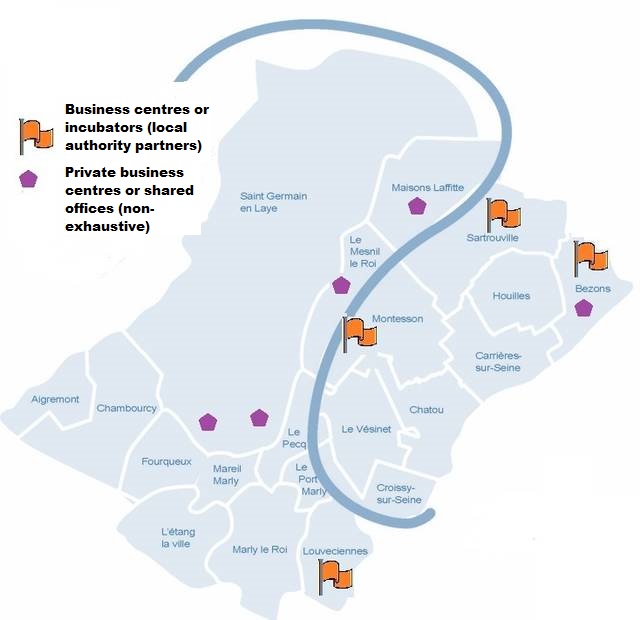 Develop tourism and invest in Saint Germain Seine Valley near Paris
Saint Germain Seine Valley has outstanding historical and architectural heritage which many hidden gems to discover or rediscover. The local authorities are dedicated to development high-quality tourism for both business and leisure.
Latest parks
Saint Germain Seine Valley
All parks
Sartrouville (Yvelines), France
Sector

Sectors of excellence
1 Online offers
0

available properties in the park
Bezons (Val-d'Oise), France
Sector

Sectors of excellence
3 Online offers
0

available properties in the park
Montesson (Yvelines), France
Sector

Sectors of excellence
1 Online offers
0

available properties in the park
Louveciennes (Yvelines), France
Sector

Service
1 Online offers
0

available properties in the park