[WEBINAR] Do you (really) know the Port of Rouen? 50 hectares of port land available immediately

Are you looking to discover the economic benefits of Rouen and establish your company along the banks of the Seine? 50 hectares of "turnkey" port land are available, enjoying a range of services at the no. 1 port complex in France - Paris-Rouen-Le Havre!
For more information, Pascal GABET, Managing Director of HAROPA-Port of Rouen, will answer your questions on Tuesday, 11 May at 10am during a one-off webinar.
A critical logistics hub linking Paris and Le Havre, Rouen is also connected each day with major European and global ports. Following 10 years of work and around 200 million in investment (from classification of sea and port access routes to dock transformation) to improve its shipping service, the Port of Rouen is embarking on the next stage of its transition, this time with an focus on environmental issues (dock electrification, solar panels, bank ecological restoration). Backed by 18,000 jobs, HAROPA-Port of Rouen also offers over 2 billion in added value each year, and a dense and close-knit ecosystem brimming with various industries.
With this in mind, at least 50 hectares of port land - wasteland redeveloped as part of the Stimulus Package and enjoying all its benefits - are immediately available for industrial redevelopment!
HAROPA-Port of Rouen helps companies to get established (energy production, environment, logistics, circular economy, etc.), and ensures a seamless transition into the local ecosystem, as well as helping employees to settle in. Everything is put in place to make it easier and quicker to establish your business!
Discover the 50 "turnkey" hectares of land
https://www.haropaports.com/en/rouen/call-expressions-interest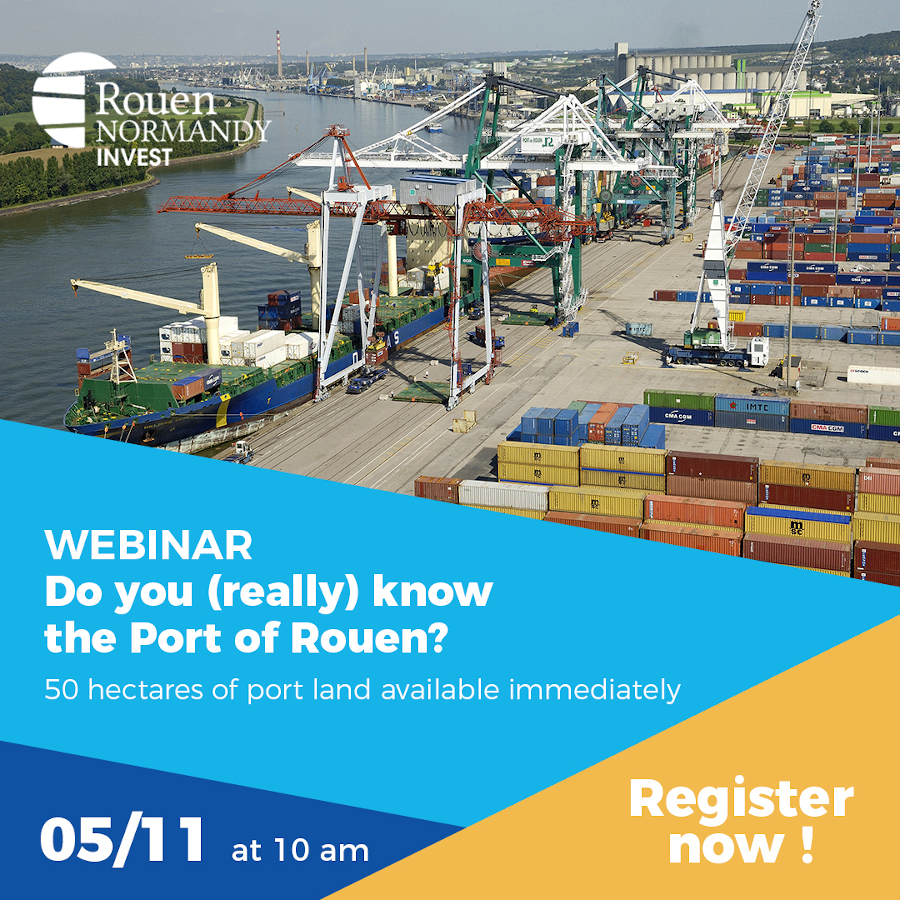 To register for the webinar 'Do you (really) know the Port of Rouen? 50 hectares of port land immediately available', on Tuesday 11 May 2021, click on this link or the button below.
A webinar offered by Rouen Normandy Invest, a Rouen Seine-Eure economic development agency, and organised in collaboration with HAROPA - Port of Rouen and Geolink Expansion
Together we will help put you in touch with other contacts and establish your business along the banks of the Seine!