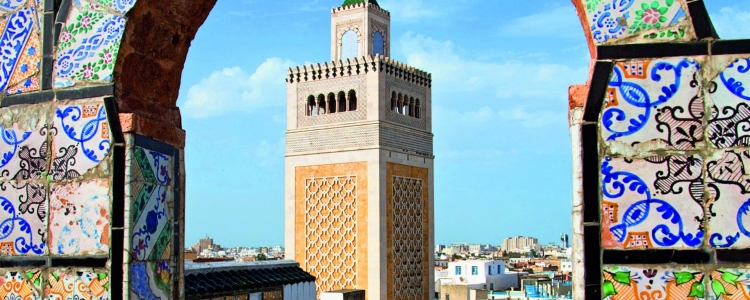 Set up your business in Tunisia
More companies are making international investments each day, thanks to the globalisation of the economy due to developing transport and communication methods. This means that financial and trade flows are constantly becoming more international.
Businesses' international expansion is facilitated by:
International free trade agreements
Diversity of products and services (regional specialisations)
The expansion of means of transport (sea, rail, road or air)
Differences in production costs (cost of living, value of different currencies, etc.)
Why is Tunisia such an attractive destination?
The attractiveness of a country can be measured by its capacity to attract (direct or indirect) foreign investment and to maintain a steady flow of foreign trade.
Over the past few years, the Tunisian economy has experienced strong growth: the mechanical, electrical and electronics industries, for instance, have achieved an annual growth rate of 13%. Out of 1,000 companies, more than 600 have received foreign investment and more than 400 are full-time exporters.
Moreover, as Tunisia was the first country in the Southern Mediterranean to sign a free trade agreement with the EU, it is the region's leading industrial exporter to the EU.
Tunisia is also a member of the International Centre for Settlement of Investment Disputes (ICSID), and in 2012, the country ratified the Declaration on International Investment and Multinational Enterprises by the Organisation for Economic Cooperation and Development (OECD).
Tunisia's main strengths
Tunisia's favourable geographical location in north Africa, only 140 km away from Europe and at the centre of a very influential Euro-Mediterranean logistics hub, makes it a great platform to connect with several major markets.
It has fantastic infrastructure with 9 international airports, 7 commercial ports, a road network of more than 20,000 km and a rail network of more than 2,000 km.
Tunisia's economy is one of the most efficient in Africa. It has 157 industrial zones, 15 cyber parks, 10 technopoles and 2 business parks (free-trade zones). Tunisia's labour force is particularly qualified, especially in terms of industry, with 8 engineering schools and 36 industrial training centres (including the centre of excellence CEMIA for the aerospace industry). Consequently, Tunisia is ranked 2nd in the world for number of postgraduates in science, engineering, industry and construction.
In 2018, Tunisia was ranked no. 1 North Africa for attractiveness, innovation and entrepreneurship. The country is particularly productive in the sectors of aeronautics, automobile components and the aforementioned mechanical, electrical and electronic industries.
Why should you invest in Tunisia?
The new investment act (which came into force on 1 April 2017) provides advantages for investors and makes it easier to create a company. In addition to complete freedom of foreign participation in the capital of off-shore companies, it allows investors to freely own land in Tunisia and transfer funds abroad. The transversal act for the improvement of business environments, passed in April 2019, has also considerably facilitated administrative procedures.
This legislative mechanism completes a very advantageous tax system for investors, including, under certain conditions, a total exemption on profits or employer tax contributions.
Industrial companies will find high manufacturing standards and international certification systems in Tunisia. Increasingly sophisticated industrial automatisation, flexibility regarding production tools and fast tracing systems at customs reduce shipment times and guarantee punctual deliveries.
The Tunisian strategy for industrial development increasingly focuses on competitiveness through innovation. Several laboratories and research centres have been established within this framework and specific measures have been taken to facilitate the mobility and exchange of researchers between both companies and public or private institutions. Tunisia has joined international scientific cooperation networks to the point where it now has the highest concentration of researchers of all African and Arab countries.
For key business sectors, Tunisia also offers financial incentives of up to 15% of material investment costs. Incentives are also available for intangible investments and R&D expenditure.
International companies in Tunisia
Faurecia, Heineken, Groupe Latécoère, Nestlé, Philips, Orange, Siemens, Téléperformance, Total, Unilever, Valeo: many international investors have already chosen to set up in Tunisia. The building materials industry alone represents more than 30% of foreign investments and the electrical, electronic, textile, clothing, mechanical, metallurgical, agri-food, chemicals and pharmaceutical sectors are also a non-negligible part of the investments made in Tunisia.
Where should you set up your company in Tunisia?
Geolink Expansion, in cooperation with the Tunisian Foreign Investment Promotion Agency (FIPA Invest in Tunisia), will facilitate your business expansion process so that you can confidently choose the best location for your future investment.
Our goal is to help you find the ideal location for your business. Fully-funded, confidential and endorsed by our local partners, we will help you through all the necessary steps with the Tunisian Investment Authority (TIA), the Agency for the Promotion of Industry and Innovation (Agence de Promotion de l'Industrie et de l'Innovation or APII), the Industrial Land Agency (Agence Foncière Industrielle or AFI) and the Technical Centre for Mechanical and Electrical Industries (Centre Technique des Industries Mécaniques et Electriques or CETIME).