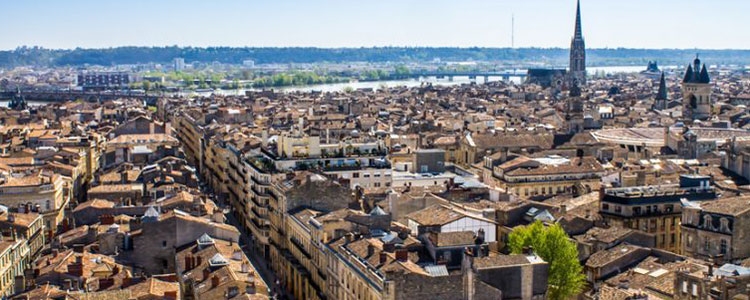 Why set up your company in Bordeaux, France?
Setting up your company in Bordeaux
Along the European North-South axis and only 2 hours away from Paris, Bordeaux offers the ideal environment to expand your business to France:
A privileged position in Europe within two hour flight from London, Brussels, Amsterdam, Geneva, Madrid, Rome, Casablanca
A fast growing international airport (6 million passengers in 2017) with more than 100 destinations
A two hours high-speed line Paris/Bordeaux (more than 18 daily connections)
An important commercial port with connections to all 5 continents and industrial and logistics platforms
A high-quality training: 15 engineering schools, 14 "grandes écoles", 5 Business Schools, 4,000 researchers, 115,000 students within the largest European university campus
1st French city in terms of living environment (PwC 2016) thanks to its historical heritage, its green areas, the proximity to the ocean, the quality of its healthcare institutions
2nd French city for its purchasing power
A rapid demographic growth (more than one million inhabitants by 2030)
Bordeaux's main strenghts
3 flagship industries and numerous promising sectors
3 main economic branches: the wine-growing, tourism and aeronautical industries testify to the international renown of the city of Bordeaux. At the same time, several other economic branches are represented by successful leading companies in their respective fields: materials of the future, photonics, tertiary sector, eco-activities, digital sector ("French Tech" territory)
1st region in the world for the production of AOC wines (protected designation of origin): 3,8 billion € turnover, 42% of which from the export activities
A highly developed leisure and business tourism industry: 104,000 jobs in the region of Bordeaux, which is France's 3rd city in terms of international conferences in 2017 (50th in Europe)
3rd aeronautics employment area in France: 2 billion € turnover, 300 groups such as Thales, Dassault Aviation, ArianeGroup, Safran Aircraft Engines
Leader in healthcare and biotechnology fields: rapidly growing companies (Maincare Solutions, EDevice); major French and European events; the University of Bordeaux is one of the three centres in France for research at an international level (program "Initiative d'Excellence")
One of the highest employment rate in France in the digital sector: more than 22,000 jobs, 4,700 institutions, a leading role in the video game, virtual reality, e-commerce or intelligent transport industry
70,000 jobs in the public service, i.e. 1 in 5, mostly in financial and IT services
A great attractiveness for numerous international groups
3rd French city in the ranking "the best city to live in" according to expats (The Local, 2016)
2nd most attractive city for foreign investors and entrepreneurs (EY 2016 poll)
Presence of international companies such as Ubisoft (10,000 jobs in the world), large service companies like Capgemini (ranked n° 6 in the world, 193,000 employees), CGI (Canadian group with 71,000 employees), AXA (personnel of 9,100 people in 34 countries), major manufacturers such as PSA (170,000 jobs worldwide, 2nd largest automobile manufacturer), Thalès (64,000 employees in 56 countries), Suez (employing 90 000 people)
Why invest in Bordeaux?
Setting up your company in Bordeaux
Due to its vibrant economy, Bordeaux represents the ideal environment to set up your company:
1st French city in terms of enterprise birth rate
More than 10,000 new businesses each year (INSEE)
One of the top 3 cities for start-ups (Trendeo)
Ranked 3rd for fundraising since 2014 (in 2016, 22 start-ups have raised more than 1 million Euros)
Large groups make significant investments: Dassault (15 M€), Thales (200 M€), Herakles (80 M€), Getrag (130 M€), Castel (150 M€), Michelin (12 M€), Corep (17 M€)
A very dynamic economic environment with more than 50 business clubs in Bordeaux, industry associations gathering companies of the key sectors (aeronautics, banks, tertiary sector, e-health, Fintech) and clubs of foreign businesses
The cost of living is 29% lower than in Paris
Finding the right location for your company in Bordeaux
Bordeaux's thriving economy is reflected in several successful development projects for national and international companies: business centres and incubators, coworking spaces, business parks and other facilities.
BORDEAUX EURATLANTIQUE: near to St Jean station, a business and innovation centre hosts companies of tertiary activities, creative economy and digital sector
BORDEAUX AÉROPARC: within the airport perimeter, Bordeaux Aéroparc represents a major technological site for the aeronautic industry. It brings together 7 large companies of this branch (such as Dassault, Thales, Safran), 110 subcontractors and 35,000 employees
BASSINS À FLOT: 160 ha north of Bordeaux, this area is home to the headquarters of two major companies: Cdiscount and Crédit Agricole Aquitaine. This mixed district offers 90,000 m² offices as well as apartment, human services and business activities
BASTIDE NIEL: a modern eco-district aiming at rehabilitating two abandoned industrial areas and a former barracks, for a total of 63,000 m² offices, shops and economic activities
BORDEAUX INNO CAMPUS (commencement of construction: 2019): a development project to improve vehicle access, the public transport network and land development. This area includes the Bioparc for healthcare-related activities and will offer 46,000 jobs (15,000 of which at the University Hospital Centre and 25,000 jobs in the private sector) and 10,000 additional jobs by 2030