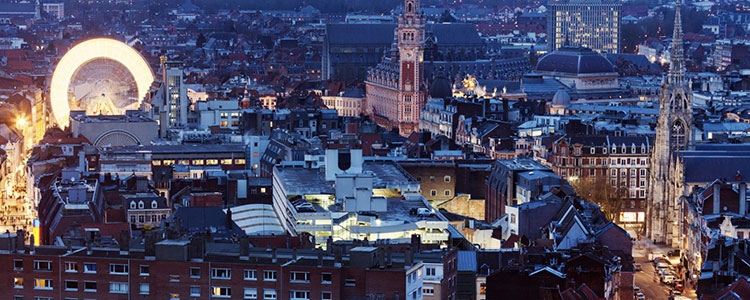 Why set up your company in Lille, France?
Setting up your company in Lille
Lille is located in a forward-looking region in the heart of Europe. By setting up your company in Lille you will benefit from a strategic position for your business:
A strategic position in Europe, less than 80 minutes away from Paris, Brussels and London
Close to the international airports Paris-Charles de Gaulle, London-Heathrow and Amsterdam-Schipol
Fast rail connections to Paris, Brussels, London, Antwerp…
Access to a river system with more than 680 km of inland waterways
Europe's richest consumer basin: 78 million consumers and 1 500 billion € purchasing power within a 300 km radius
France's third university centre with 115,000 students, 3,500 researchers, 80 research centres
A broadband coverage by 2020 i.e. 2,000 km optical fibre network
Presence of several innovative SMEs: more than 2,000 companies which employ 41,000 people for 11 billion turnover
A genuine concern for the environment: major investments in public and private research thanks to 60 laboratories and 400 researchers; "World Forum Lille" (a program of international events for promoting business awareness of a responsible world economy)
Lille's main strenghts
A strong industrial and logistic footprint
2nd French region for the automotive industry: 3 global manufacturers and more than 200 equipment manufacturers and suppliers
Leading companies of the transport sector such as Bombardier and Alstom
60,000 jobs in the logistic sector: Amazon, Babyliss and Rakuten distribution centres and several transport companies (e.g. DHL, Fedex, TNT)
An innovation-oriented economy
Lille also hosts 5 competitive clusters:
UP-tex and the Centre for advances textile materials
"Pôle Nutrition-Santé-Longévité", gathering agri-food, biotech and healthcare companies
Picom, a cluster for trade industries
Matikem, a centre in the field of chemistry and materials
TEAM² (Environment technologies for substances and materials), specialised in recycling and waste recovery technologies
i-Trans, for the development of sustainable means of transport
A growing attractiveness at European and global level
For several years now, Lille is developing its European and international relationships.
3rd French region in terms of foreign investments (capital inflows from Germany, Belgium, Holland, Great Britain, USA, Japan)
3rd French region for import and export transactions
141,000 jobs in foreign-owned companies, i.e. one employee out of ten
Several international stakeholders in the area: Amazon, Booking.com, large IT groups (IBM, OVH, Cap Gemini, Microsoft), leading agri-food companies (Häagen-Dazs, Danone, Bonduelle, Lutti) and healthcare companies (Bayer HealthCare, GSK Vaccines, Tate & Lyle)
Why invest in Lille?
Setting up your company in Lille
Every year, Lille's Economic Development Agency helps more than 500 companies set up in Lille.
Several business services for companies wishing to set up in Lille: establishment of relations with key partners, real estate solutions, support for innovation projects
Support and financing structures
Every 5 years, an Economic Development Plan (PMDE) is put in place in order to support companies throughout their development
Finding the right location for your company in Lille
The Urban Community of Lille includes 85 municipalities and has the necessary infrastructure for supporting companies' development projects by offering many hosting solutions (business parks, business centres and incubators and so on):
Euralille, France's 3rd business district, in close proximity to the TGV train stations of Lille Flandres and Lille Europe: a perfectly tailored offer for tertiary companies.
Eurasanté, a centre of excellence for healthcare & biotech sector and Europe's largest university hospital centre (170 hectares, 7 hospitals, 5 universities). The site gathers more than 14 000 medical professionals, more than 60 research laboratories and a hundred companies. It also hosts the "Bio-incubator" for young start-ups.
EuraTechnologies, 80,000 m² for ICT and digital companies: this business park was created in 2009 and is ranked in Europe's top 10 business incubators (Fundacity). It includes 150 companies, 3,500 jobs, 100 projects a year, 500 annual events and an international network.
Haute Borne, a HQE scientific park within an education and research pole with a European dimension: more than 1,300 teachers, 50,000 students and 60 research laboratories. An international research centre for nanotech and ICT.
Union brings together the CETI (Centre for advances textile materials) and Plaine Images, economic excellence centre for image and creative industry, with 100 companies of all kinds.