12,000 m² business premises to be taken over - Revin (08)
12,000 m² business premises to be taken over - Revin (08)
Revin (Ardennes - Grand Est - France)
Commercial Properties

Reference: AFR16932
FOR RENT, FOR SALE
In Revin, in the department of the Ardennes, discover these premises of activities of 12,000 m² to take over. A former industrial site undergoing conversion, these premises are accompanied by a vast land area. This site is ideal for the development of your professional activity and its large surface adapts to all activities.
Description of the property
Business premises to be taken over in Revin
These 12,000 m² activity rooms, with a possibility of extension to 16,000 m², are equipped with gas, electricity and water. The industrial environment to be requalified is 37,000 m², the whole being located on a plot of 6.5 ha.
A strategic location for these 12,000 m² business premises
The site is located in Revin, on the banks of La Meuse. Revin is an industrial town located in the Ardennes department, in the heart of Europe. This town is 10 minutes from Highway 304 and the European E420 north-south axis. It is also 1 h 20 from Charleroi - Brussels South International Airport. Revin has a train station open on weekends. Revin is 30 minutes from Charleville-Mézières, the capital of the French Ardennes, 1 h 30 from Reims, 2 h from Brussels, 2 h 20 from Luxembourg and 3h from Paris. The commune is part of an Regional financial aids and employment area to be revitalized.
The Ardennes have several reasons for establishing themselves in their territories :
​Thanks to its location at the intersection of the Amsterdam-Marseille and Berlin-Paris motorway links
The municipality of Revin is part of an AFR and BER zone. In some cases, you can benefit from private aid through a mutual fund.
Reliable and efficient workforce
The workforce has an unparalleled and highly sought-after know-how in the field of materials work, as well as a mastery of new professions.
The Ardennes are at the forefront of the energy mix combining nuclear, hydro and wind power generation. The former Champagne-Ardenne region is the first French region in terms of wind energy production.
Competitive real estate and land supply
You will find on the territory many plots and buildings of large surfaces.
Strong international exposure
The Ardennes are major exporters, its coverage rate of 157% is the highest in Champagne-Ardenne.
A quality living environment
The Ardennes enjoy a very pleasant living environment, with diverse landscapes and conducive to "green" sports activities.
Leading innovation clusters
The CRITT-MDTS is a testing and analysis laboratory, as well as a centre of expertise and specialist in materials research, deposits and surface treatments.
You will also find the EiSINe, an engineering school specialized in industrial and digital sciences, component of the University of Reims Champagne-Ardenne.
Many companies are already established in the Ardennes, such as Nestlé, Monier, the Lactalis Group, Hermès Paris, Mondelez International, etc.
Are you interested in these premises in the Ardennes ?
The rent or sale price shall be negotiated with the Community.
Do you have any questions about this opportunity ?
Contact us by phone or directly via the form opposite.
Technical features
Controlled temperature

Not defined
Financial conditions
Access to the area
Motorways

< 20 min.

Regional trains, tramway and metro

< 20 min.

High-speed trains

< 20 min.

Airport

> 1h

International airport

> 1h
Project manager
Project manager for the territories

+33 (0)4 65 84 01 52
Key information
Type of property

commercial properties

Last update

06/01/2023

Land Acreage

65000.00 m2

Minimum area

12000.00 m2

Maximum area

12000.00 m2
Similar properties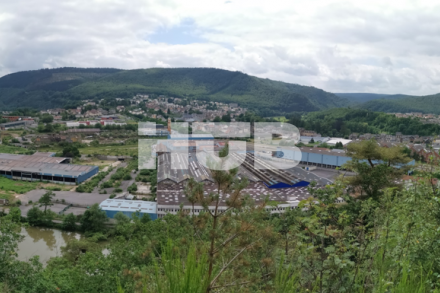 See the ad
Type of property

commercial properties
Revin (Ardennes), France
Business sector

-
Project manager
Project manager for the territories

+33 (0)4 65 84 01 52