Food processing site to rent on « Parc de la Radio » Business Park (formerly Sodexo)
Food processing site to rent on « Parc de la Radio » Business Park (formerly Sodexo)
Dreux (Eure-et-Loir - Centre-Val de Loire - France)
Food Processing Premises

Reference: AFR6842
FOR RENT
Rent excluding charges: 56.00 € / m2 / year

In Dreux urban area, a 2,730 m² building meeting food processing norms is available for rent. It includes 180 m² of office space. It was renovated in 2008.
The building is located on « Parc de la Radio » Business Park in Dreux, at the gates of the larger Paris urban area (RN12) and Normandy. It is at the heart of the most dynamic area on the territory.
Description of the property
Security on-site is insured through guards, electric fencing, remote monitoring and access control with badges.
The site is equipped with optical fiber and staff can enjoy a company restaurant (shared with other firms) only 5 minutes away.
Site access and environment:
> Train connections:
9 minutes away from Dreux station
Direct connection to Paris in 45 minutes
> Airports:
1 hour away from Paris-Beauvais and Paris Orly
> Motorways:
Connection to the main networks in western France
1 hr 15 from Paris (A12) and Rouen (A13)
2 hrs from Le Havre and Caen (A13)
3 hrs from Lille (A13 and A1)
SITE FEATURES
Horizontal double skin steel cladding
Concrete external vault with multiple-membrane waterproofing
Ceiling height: between 5.20 and 6.50 m
Workshops and cold chambers: 3 m high
6 loading docks with access to the heavy vehicle maneuvering area
Parking facilities with 100+ slots
2 access roads (separate for light and heavy vehicles)
The commercial platform includes workshops, cold chambers and office space.
The site meets the needs and norms for any food processing activities.
Electricity: green tarification (lowest price)
Costs: rent is €56 / m² / year (excluding VAT and charges)
In 2017 the property tax (taxe foncière) was €10,702 (excluding taxes).
Charges amount to an average ratio of €2.60 HT / m² / year (excluding taxes).
Technical features
Controlled temperature

Not defined

Loading dock

Yes

Sectional doors

Yes

Parking area

Yes

Secured building

Yes
Financial conditions
Rent excluding charges

56.00 € / m2 / an
Access to the area
Motorways

Between 20 min and 1h

Regional trains, tramway and metro

< 20 min.

High-speed trains

Between 20 min and 1h

Airport

> 1h

International airport

> 1h

Public transport in the area

Yes
Key information
Type of property

food processing premises

Last update

05/10/2022

General condition of the property

very good state

Minimum area

2730.00 m2

Maximum area

2730.00 m2
Similar properties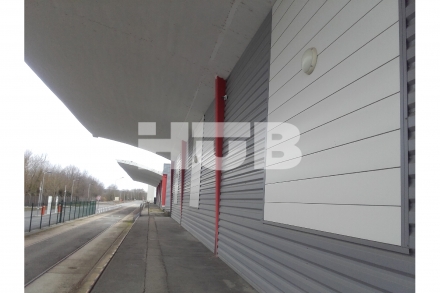 See the ad
Type of property

food processing premises
Dreux (Eure-et-Loir), France
Business sector

-