For sale- land from 1,500 m² in Epouville
For sale- land from 1,500 m² in Epouville
Épouville (Seine-Maritime - Normandie - France)
Plot
FOR SALE
Land sale price: 43.00 € / m2

Land from 1,500 m² is available to purchase in Epouville, in the Le Mesnil business park on the outskirts of Le Havre, in Seine-Maritime. The total surface area is 460,000 m², and the price is €43/m²/year. The park already hosts large companies (Chronopost, Ineo, …) and can host industrial and logistics activities. Benefit from the attractiveness of the Le Havre metropolis.
Description of the property
Land to buy from 1,500 m² in Epouville, in Seine-Maritime (76)
Discover this opportunity of land in Normandy. Less than an hour from Le Havre, the site offers a perfect location for the development of your company's activities. We remain available for an extra information.
The land in Epouville
Available to purchase, these plots of land will take advantage of the attractiveness of Le Havre, ideal for a company looking for a site near Le Havre.
Less than 20 km away:
Le Havre-Octeville-Sur-Mer airport
Le Havre TGV station
Le Havre seaport
Épouville, Rolleville and Montivilliers train stations
Less than 50 km away :
Deauville-St-Gatien airport
the railway stations of Bréauté-Beuzeville, Grainville-Ymauville and Fécamp
Within 100 km :
Caen-Carpiquet airport
Rouen Rive Droite TGV station
the ports of Caen-Ouistreham and Rouen
the train stations of Yvetot, Glos-Montfort and Mézidon-Canon
Functional sites
The business park is equipped with fibre optic. The plots are serviced and benefit from a heavy road network.
Companies present on the park: Chronopost, Ineo (Engie), Ambulances havraises, IMS Sécurité
What is the budget for this plot?
The price is fixed at €43/m²/year.
Are you interested in this plot of land and would you like to know more? We are at your disposal to make your real estate project a reality.
If you are considering international expansion, feel free to call our multilingual team! We can help you to choose the perfect location for the implantation of your company thanks to our excellent knowledge of local financial infrastructures and regions.The best part for you is that our services are free!
Technical features
Multimodality

Road

Controlled temperature

Not defined

Broadband Internet

Optical fibre
Financial conditions
Land sale price

43.00 €

Financial and tax benefits

AFR

Classified facility

NOT DEFINED
Access to the area
Motorways

< 20 min.

A proximité des autoroutes A29, A13 et A15

Regional trains, tramway and metro

< 20 min.

- Gare du Havre
- Gare de Rouen

High-speed trains

< 20 min.

- Gare du Havre
- Gare de Rouen

Airport

< 20 min.

- Aéroport de Deauville - Normandie
- Aéroport de Rouen - Vallée de Seine
- Aéroport de Caen-Carpiquet
- Aéroport Le Havre-Octeville
- Aéroport de Cherbourg - Maupertus

International airport

< 20 min.

2 aéroports internationaux (Rouen et Le Havre)
Key information
Type of property

plot

Last update

04/12/2022

Minimum area

1500.00 m2

Maximum area

460000.00 m2

Constructible

Yes
Similar properties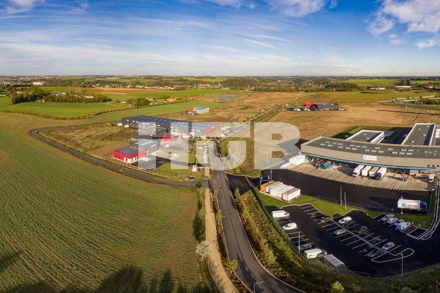 See the ad
Type of property

plot
Épouville (Seine-Maritime), France
Business sector

Industry, Logistics, Crafts, Service, ICT, Food industry, Aerospace industry
See the ad
Type of property

plot
Saint-Vigor-d'Ymonville (Seine-Maritime), France
Business sector

Logistics, Food industry
Economic environment
Épouville (Seine-Maritime), France
Sector

Industry, Logistics, Crafts, Service, ICT, Food industry, Aerospace industry
1 Online offers
10

available properties in the park