Land available in Bussy-Lettrée (51)
Land available in Bussy-Lettrée (51)
Bussy-Lettrée (Marne - Grand Est - France)
Plot

Reference: AFR16923
FOR SALE
Land sale price: 9440000.00 € / m2

In the Grand Est region, discover the opportunity offered by this plot of land with an available surface of 59 ha on a total surface of 157 ha. Located in a park dedicated to industry and services that already counts more than a hundred companies, the land is in a strategic location to develop an activity.
Description of the property
Sale of land of 59 ha in Bussy-Lettrée, Marne (51)
We offer a plot of 59 ha in Bussy-Lettrée, in the Grand Est region. This plot offers an ideal location for the development of your activities. We remain available for any further information.
Characteristics of this land
In a central location in eastern France, well connected to the main business centres of Western Europe, a plot of 59 ha is available.
This site is located on the main freeways and the site is considered a development priority area (regional financial aid and rural revitalization area).
70% of European production and consumption is within 400 km.
The types of activities on the site are industry and logistics.
As regards the equipment :
• Water : potable and industrial.
• Electricity: high, medium and low voltage.
• Gas : industrial gas.
• Sanitation: public system, rainwater, wastewater.
• Network : Broadband Internet
• Employee services : food, shuttle, workplace health, temporary help agency.
For services nearby, you will find: inter-company restaurant, occupational medicine, health and cycle paths, association of business leaders.
Here are the two main companies present on the site : XPO LOGISTICS, MOSOLF France.
Ideally located in Bussy-Lettrée
The land is located on RD 977, near RN4 and is connected to the European motorway network (A4/A26).
The multimodal infrastructures are as follows:
Nearby you will find Châlons-en-Champagne train station and the Châlons-en-Champagne – Vatry shuttle bus.
What's the price of the land ?
Price : 16 € excluding tax/m². If this land meets your needs, we are at your disposal to make your real estate project possible. For any information regarding the purchase price of this land, contact us.
Technical features
Controlled temperature

Not defined
Financial conditions
Land sale price

9440000.00 €
Access to the area
Motorways

< 20 min.

Regional trains, tramway and metro

< 20 min.

High-speed trains

< 20 min.

Airport

< 20 min.

International airport

< 20 min.
Project manager
Project manager for the territories

+33 (0)4 65 84 01 52
Key information
Type of property

plot

Last update

06/01/2023

Minimum area

590000.00 m2

Maximum area

590000.00 m2

Constructible

Yes
Similar properties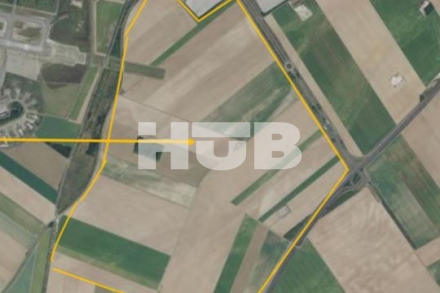 See the ad
Type of property

plot
Bussy-Lettrée (Marne), France
Business sector

-
Project manager
Project manager for the territories

+33 (0)4 65 84 01 52