To lease - Coworking spaces at Madrid International Lab
To lease - Coworking spaces at Madrid International Lab
Madrid (Madrid - Communauté de Madrid - Espagne)
Office

Reference: AES18664
FOR RENT
The Madrid International Lab (iLAB) is an internationally recognized innovation center supported by the Madrid City Council. At the core of this space, you will find shared workspaces provided free of charge to startup founders, with a maximum duration of one year. Additionally, iLAB organizes events related to themes of interest for the innovation community. The center features a spacious meeting room that can accommodate up to 80 people, fostering collaboration and exchanges within this dynamic ecosystem.

Located in the heart of the Spanish capital and conveniently accessible through bus and metro lines, these coworking spaces offer privileged access, simplifying commuting. They are open to everyone and available immediately.
Description of the property
For Lease - Coworking Spaces at Madrid International Lab
Nestled in the heart of Madrid International Lab, these contemporary coworking spaces are thoughtfully designed to cater to the needs of budding startups and thriving businesses in the region. They provide expansive, modern, and innovative work environments that foster the growth of enterprises in the health, innovation, and research sectors.
iLAB generously offers these shared workspaces at no cost and also orchestrates events aimed at promoting innovation and attracting top talents. Moreover, you'll have exclusive access to a shared meeting room with a capacity of up to 80 people.
A Productive Workspace in the Heart of Madrid

Benefiting from an ideal location, Madrid International Lab ensures convenient and daily access through an extensive public transportation network servicing the city.
Nearby:
- Metro: La Latina (Line 5)
- Bus: Lines 3, 148, SE712, 60
- Bicimad: Station 37 (Plaza San Francisco, 5)
What is the rental price for these coworking spaces in Madrid ?

Remarkably, these coworking spaces are provided free of charge by the facility.
Should this opportunity capture your interest and you desire further details, please don't hesitate to reach out to our dedicated team. We are poised to address all your inquiries and assist you in making the most of this collaborative workspace at Madrid International Lab.
Technical features
Controlled temperature

Not defined

PRM adapted

Yes

Parking area

Yes

Shared Services

Yes

Broadband Internet

Optical fibre

Secured building

Yes
Financial conditions
Access to the area
Motorways

< 20 min.

Regional trains, tramway and metro

< 20 min.

High-speed trains

< 20 min.

Airport

< 20 min.

International airport

< 20 min.
Project manager
Project manager for the territories

+33 (0)4 65 84 01 52
Key information
Type of property

office

Last update

08/11/2023

General condition of the property

very good state

Minimum area

10.00 m2

Maximum area

50.00 m2
Similar properties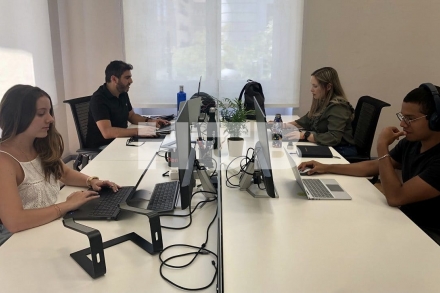 See the ad
Type of property

office
Madrid (Madrid), Espagne
Business sector

-
Project manager
Project manager for the territories

+33 (0)4 65 84 01 52