To rent - 5,090 m² warehouse in Trémery
To rent - 5,090 m² warehouse in Trémery
Trémery (Moselle - Grand Est - France)
Warehouse

Reference: AFR15318
FOR RENT
5,090 m² warehouse for rent, in Trémery, in Moselle (57), in the Grand-Est region. The site has many attractive features (secured and fenced, sprinkler system, loading docks, etc.). You will also benefit from an excellent location, it is perfectly accessible and it is next to Metz and neighbour countries (Germany and Belgium). The rent for this property, ideal for an industrial or logistics activity, is €375,000 (excluding taxes and bills).
Description of the property
5,090 m2 warehouse to rent in Trémery, Moselle (57)
We offer you a 5,090 m2 warehouse in Trémery, in the Grand-Est region. This 5,090 m2 warehouse in very good condition has a load capacity of 5 t/m2 and the beam has a height of 7 m. Thanks to this site located less than an hour from Metz, your business will benefit from its attractiveness. Our team can help you with your professional real estate project.
A warehouse in Trémery
This warehouse for rent will benefit from the attractiveness of Metz, an ideal location for a company looking for a site near Trémery.
Less than 20 km away:

Thionville and Metz Ville TGV stations

Less than 50 km away:

Metz-Nancy-Lorraine airport
Lorraine and Luxembourg TGV stations

Less than 100 km away:

Nancy, Forbach and Lunéville TGV stations
The strengths of the warehouse
Within an area of 5,090 m2, this warehouse also has a clear height of 7 m and a load capacity of 5 t/m2. It has 6 loading docks. The warehouse is also equipped with 7 sectional doors. A car park with 39 places (including 1 for reduced mobility) is present on the site. It is equipped with air conditioning. The property is classified ICPE (classified installations for the protection of the environment). Access to the premises is controlled with access cards. The site is fully fenced.
Area
Terrain: 20,077 m²
Warehouse: 5,090 m²
Technical rooms: 275 m²
Offices & social areas: 440 m²
What is the price of this warehouse?
Annual rent: €375,000 (excluding taxes and bills)
Type of lease: Commercial lease
Tax: Rent + VAT
Payment of rent: Quarterly in advance
Are you interested in this warehouse and need more information? Contact us to find out more about the rental conditions.
If you are considering international expansion, feel free to call our multilingual team! We can help you to choose the perfect location for the implantation of your company thanks to our excellent knowledge of local financial infrastructures and regions. The best part for you is that our services are free!
Technical features
Air conditioning

Yes

Controlled temperature

Not defined

Loading dock

Yes

Sectional doors

Yes

Parking area

Yes

Secured building

Yes
Financial conditions
Access to the area
Motorways

< 20 min.

Regional trains, tramway and metro

Between 20 min and 1h

High-speed trains

< 20 min.

Airport

< 20 min.

International airport

Between 20 min and 1h
Key information
Type of property

warehouse

Last update

05/12/2022

General condition of the property

very good state

Land Acreage

20077.00 m2

Minimum area

5090.00 m2

Maximum area

5090.00 m2

Effective height

7.00 m
Similar properties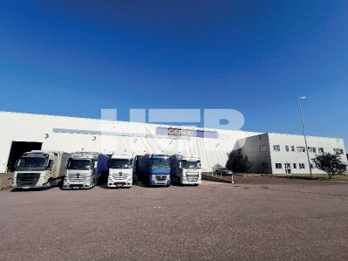 See the ad
Type of property

warehouse
Trémery (Moselle), France
Business sector

-
See the ad
Type of property

warehouse
Entrange (Moselle), France
Business sector

-