To rent- 5,270 m² of storage space in La Couronne
To rent- 5,270 m² of storage space in La Couronne
La Couronne (Charente - Nouvelle-Aquitaine - France)
Commercial Properties

Reference: AFR15286
FOR RENT
Rent excluding charges: 40.00 € / m2 / year

Storage space available to rent with a total surface area of 5,270 m² in La Couronne, in Charente, in the Nouvelle Aquitaine region. Divided into several buildings, the site is ideal for logistics activities in particular. It has many attractive features. It also benefits from the proximity of Angoulême and the Nouvelle Aquitaine region in general.
Description of the property
5,270 m² premises available to rent in La Couronne, in Charente (16)
In the Nouvelle Aquitaine region, discover this opportunity of storage space. This site in good condition is in a perfect location for the development of your activities. We remain at your disposition for any extra information.
The business premises in La Couronne
Available to rent, these premises benefit from an ideal location for a company looking for a site close to La Couronne.
Less than 20 km away:
Angouleme-Brie-Champniers airport
Angoulême TGV train station
The train stations: La Couronne, Ruelle, Châteauneuf-sur-Charente
Less than 50 km away :
The train stations : Montmoreau, Luxé, Jarnac
Less than 100 km away :
Perigueux-Bassillac, Niort-Souche and Bergerac-Roumaniere airports
Libourne and Saint-Maixent-L'Ecole TGV train stations
The train stations : Saint-Aigulin-La-Roche-Chalais, Fontaines-d'Ozillac and Eglisottes
The characteristics of the premises
With a surface area of 5,270 m², in various types and areas, these business premises include loading bays. They are also equipped with sectional doors. A truck parking area is available, as well as warehouse-type storage buildings, office areas and sectional doors.
What is the price for these premises?
The rent is €40/m²/year or €17,500/month.
Do you want to set up in Charente and wish to have more information about these business premises? Our teams are at your disposal to help you with your real estate project.
If you are considering international expansion, feel free to call our multilingual team! We can help you to choose the perfect location for the implantation of your company thanks to our excellent knowledge of local financial infrastructures and regions.The best part for you is that our services are free!
Technical features
Controlled temperature

Not defined

Loading dock

Yes

Sectional doors

Yes

Parking area

Yes
Financial conditions
Rent excluding charges

40.00 € / m2 / an
Access to the area
Motorways

> 1h

Regional trains, tramway and metro

< 20 min.

Angoulême train station

High-speed trains

< 20 min.

Angoulême train station

Airport

> 1h

International airport

> 1h

Public transport in the area

Yes
Key information
Type of property

commercial properties

Last update

11/11/2022

General condition of the property

good condition

Land Acreage

5270.00 m2

Minimum area

5270.00 m2

Maximum area

5270.00 m2
Similar properties
See the ad
Type of property

commercial properties
Châteauneuf-sur-Charente (Charente), France
Business sector

-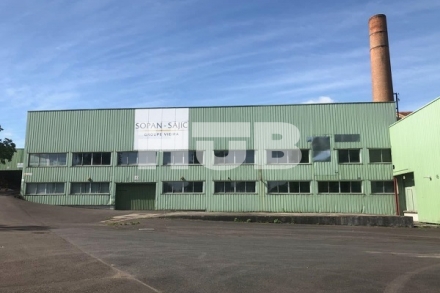 See the ad
Type of property

commercial properties
La Couronne (Charente), France
Business sector

-