Setting up your business in Cergy Pontoise
Setting-up locations and regions : City of Cergy-Pontoise
Why set up your company in Cergy-Pontoise, France?
Setting up your company near Paris
In the heart of the region of Paris, France's first industrial region, Cergy-Pontoise offers several development opportunities for SMEs:
A network of companies and organisation, in order to facilitate your research and technical development: access to shared services, carrying out of projects, search for financing etc.
Several services for companies
14 training centres with training courses in all fields
Important traffic axis and a fast access to Roissy Airport and to the port of Le Havre
Finding the right location for your company in Cergy-Pontoise
Business parks and commercial real estate
With more than 20 business parks on 1,000 hectares, Cergy-Pontoise hosts the headquarters of large international groups, production units, research and development centres as well as logistic platforms. These areas offer companies equipped offices and spaces for their development: company restaurants, meeting rooms, fitness room, janitorial services, optical fibre, nurseries and so on.
Campus Saint-Christophe – Cergy: The Campus Saint-Christophe benefits from Cergy-Pontoise's dynamic economic environment: 200,000 inhabitants, 9,350 companies, 90,000 jobs and 7 competitive clusters. 18 office buildings are located on a 35 ha area and offer 83,000 m² office. The Park Saint-Christophe is equipped with the most advanced technology and turnkey business premises for groups, SMEs and schools. Moreover, the campus offers a wide range of services: library, amphitheatre, conference hall with 180 seats, interpreter booths, 11 meeting rooms, language resource centre, 2 computer rooms etc.
International companies in Cergy-Pontoise
Numerous industrial companies in Cergy-Pontoise
The aerospace industry in Cergy-Pontoise (Cluster ASTech) consists of:
900 researchers and engineers
Several large companies' production units and research centres (Thalès Training, Sagem Défense et Sécurité)
The sustainable transport industry (Clusters Mov'eo and Systém@tic) in Cergy-Pontoise represents:
6,000 direct jobs
100 companies (such as Valeo, Autoliv Electronics, Johnson Controls)
The branch of digital technologies (Clusters Systém@tic and Cap Digital) brings together:
11,000 jobs
700 companies (Morpho, Sagemcom and so on)
The health and beauty industry (Clusters Cosmétic Valley and Médicen) gathers:
Almost 30 companies (like Sisley, Clarins)
Territory's grants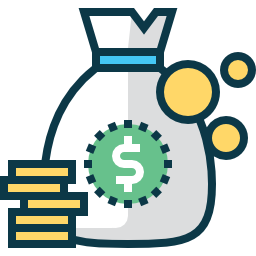 Latest parks
City of Cergy-Pontoise
All parks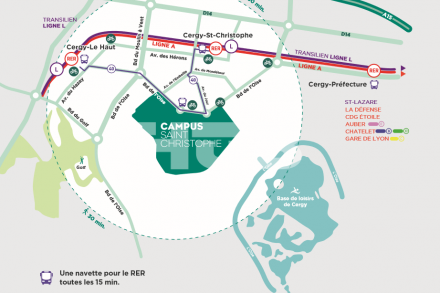 See the Park
Cergy (Val-d'Oise), France
Sector

Service
1 Online offers
20

available properties in the park
Latest offers
City of Cergy-Pontoise
All the offers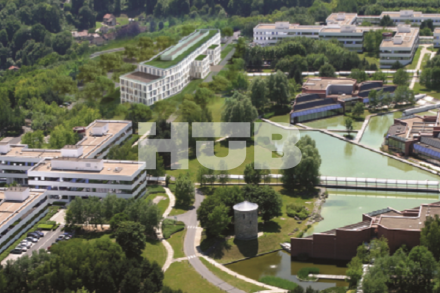 See the ad
Type of property

warehouse
Cergy (Val-d'Oise), France
Business sector

Service