Buy/Rent 7 hectares of land near Paris, France
Buy/Rent 7 hectares of land near Paris, France
Saint-Germain-en-Laye (Yvelines - Île-de-France - France)
Plot

Reference: AFR9903
FOR RENT, FOR SALE
The area disposes of an exceptional environment and the possibility to construct on a further 4,000 to 6,000m2 of land, according to the local urbanisation plan. The site is ideal for the technology sector, also offering a conference centre with an auditorium and exhibition areas. Moreover, you will find a restaurant, gym, and numerous covered and outdoor car parks.
Description of the property
Buy/Rent 6,000m2 of buildable land in Val-d'Oise, close to Paris, France
Are you looking for the premises to set up your international business? Well in this advert we propose to you, an offer in Ile-de-France, the Parisian region of France.
A good location
The site borders the N13- a major road between Paris and Cherbourg, which is a north-western French commune that constitutes an important commercial, ferry, and military port on the English Channel. It is also close to the A13 motorway- linking Paris to Caen, northern France's Normandy region- and the A14 motorway- an autoroute in the western suburbs of Paris. Restaurants and shops are also less than a 15 minutes' walk away, and there is public transport available in the area. The closest airports are the ones in Paris.
A fully equipped and functioning building
The property offers a company restaurant, a gym, and a conference centre with an auditorium and showrooms. Numerous covered and outside car parks are also accessible.
What is this property's sale/rental price?
The financial data regarding this property will be provided by our business partner; just as with any other questions you may have concerning this advert.
Technical characteristics
Multimodality

Road

Controlled temperature

Not defined
Financial conditions
Access to the area
Motorways

< 20 min.

Regional trains, tramway, metro

< 20 min.

High-speed trains

Between 20 min and 1h

Airport

< 20 min.

International airport

Between 20 min and 1h

Public transport in the area

Yes
Key information
Type of property

plot

Last update

22/10/2020

Minimum area

4000.00 m2

Maximum area

6000.00 m2

Constructible

Yes
Similar properties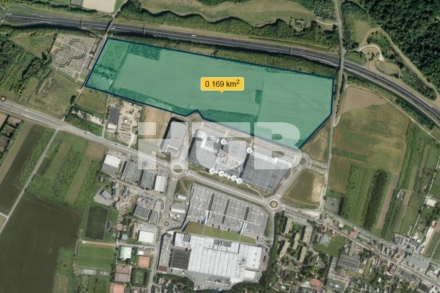 See the ad
Type of property

plot
Chambourcy (Yvelines), France
Business sector

-
See the ad
Type of property

plot
Saint-Germain-en-Laye (Yvelines), France
Business sector

-