L1 and L2 laboratories available to rent in Suresnes, near Paris
L1 and L2 laboratories available to rent in Suresnes, near Paris
Suresnes (Hauts-de-Seine - Île-de-France - France)
Laboratory
FOR RENT
Situated to the west of Paris and just a stone's throw from the La Défense business district, we have offices and specialised L1 and L2 laboratories available to rent to innovative health companies. Facing the Foch Hospital and only 10 minutes from the Curie Institute in Saint Cloud, these laboratories, designed for researchers, scientists and entrepreneurs in the health sector, are integrated into a building dedicated to health.
Description of the property
An environment that fosters innovation and synergy
Working in close collaboration with local institutions (such as the City of Suresnes, the Ile de France Region, Hospitals, the Medicen Centre of Excellence), the site aims to create an ecosystem conducive to research excellence and the emergence of innovative technologies in the health sector. These new L1 and L2 laboratories available to rent provide a unique environment for entrepreneurs and researchers to accelerate the development of their projects. The site is conveniently located in close proximity to major bio-pharmaceutical laboratories in western Paris.

A place to facilitate collaboration
In addition to offices and coworking spaces, the "DocCity" BioCluster, made up of Biotech and Medtech companies, offers user-friendly facilities (meeting rooms, conference room, roof terrace, tea room, sports room, catering area, etc.) aimed at promoting networking among users and fostering collaboration. A number of services are also offered to enable entrepreneurs and researchers to concentrate on their core business and to benefit from a unique working environment.

Interested in these offices and laboratories?
Contact us for more information.
Technical features
Sustainable development certification

Yes

Multimodality

Road Train

Air conditioning

Yes

Controlled temperature

Not defined

Equipped laboratories

Yes

Parking area

Yes

Shared Services

Yes

Broadband Internet

Optical fibre

Secured building

Yes
Financial conditions
Classified facility

NOT DEFINED
Access to the area
Motorways

< 20 min.

Regional trains, tramway and metro

< 20 min.

High-speed trains

Between 20 min and 1h

Airport

Between 20 min and 1h

International airport

Between 20 min and 1h

Public transport in the area

Yes
Key information
Type of property

laboratory

Last update

13/10/2022

Minimum area

0.00 m2

Maximum area

3500.00 m2

availability date

15/12/2022
Similar properties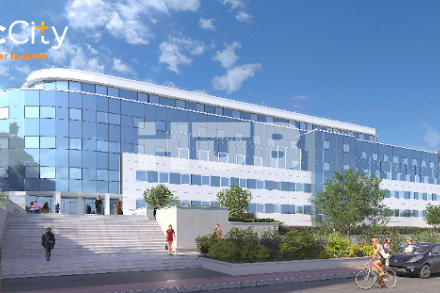 See the ad
Type of property

laboratory
Suresnes (Hauts-de-Seine), France
Business sector

-
Economic environment
Suresnes (Hauts-de-Seine), France
Sector
1 Online offers
0

available properties in the park