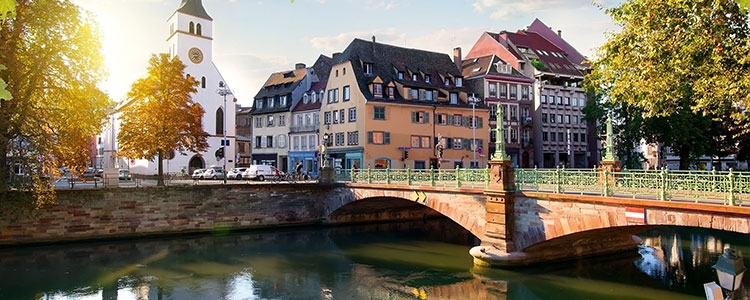 Why set up your company in Strasbourg, France?
Setting up your company in Strasbourg
The city of Strasbourg has a European and international influence by nature and has many advantages for the setting up and development of foreign companies:
A geographic location along the German-French border, between the two largest European markets
In the heart of an area with 35 million inhabitants within a 200 km radius
At the crossroads of Europe: 8 international airports less than 2h30 away, an important port connected with Rotterdam, a major railway junction, one of France's most developed public transport network directly connected to Germany
A diplomatic capital: three European institutions have set up their headquarters in Strasbourg along with 47 permanent representations (embassies) and 42 consulates
A high-developed academic and scientific centre: the French National Scientific Research Council, the 1st French university campus after Paris with world renowned scientists (4 Nobel prizes for chemistry, biology and medicine and a Albert-Lasker prix for medical research)
Strasbourg's major assets
Strasbourg: a city at the edge of innovation
Strasbourg relies on a large variety of business branches (industry, crafts, commerce, healthcare, tourism, digital industry, logistics, tertiary sector) which highlight innovative solutions:
Alsace BioValley is one of the most important European clusters for biotech and works together with the university hospital centre of Strasbourg, medical technologies implantation sites and outstanding laboratories such as I-CUBE (research unit around medical imaging)
3 more competitive clusters promote the development of innovative projects: Pôle Véhicule du Futur (mobility solutions), Pôle Fibres-Energivie (construction industry) and Pôle Hydreos (water management)
Creative activities (design, new media, digital sector, book publishing industry, performing arts) represent a significant business sector in Strasbourg with 3,000 companies and 12,000 employees
The tertiary sector covers 82% of Strasbourg's jobs: it's one of the city's development priorities (International Business District and an attractiveness policy for large European companies)
Strasbourg, an outward-looking cosmopolitan city
An international community with 22 000 people. Almost 13 % of Strasbourg's population is of foreign origin and 20 % of the students are not French (more than 150 different nationalities)
With more than 450 million Euros in 2014, Strasbourg is an attractive territory for foreign investments
Of 3,000 industrial companies in Strasbourg's region, more than 30% area foreign-owned (mainly German and American): Punch Powerglide (formerly General Motors), Lilly France (American pharmaceutical group) or the Dutch group Heineken (3rd world leading brewer)
Why invest in Strasbourg?
Setting up your company in Strasbourg
Strasbourg offers a favourable economic environment for international companies:
3rd most attractive French city (E&Y 2017 poll)
1st French region for foreign direct investments (IDE)
1st connected city in France (ranking nPerf 2017)
Launch of the programme Strasbourg ÉCO 2030: a business support for the creation of 27,000 job by 2030
A good price-quality ratio for premises for the tertiary sector
Finding the right location for your company in Strasbourg
Strasbourg offers a reception system for companies (business incubators, international business districts, co-working spaces and so on).
This region includes 85 business areas for industrial, commercial and craft activities for a total of 3 430 ha. Several locations are particularly development-friendly:
Archipel, the international business district with offices, business centres, hotels, shops and services close to European institutions, the new Strasbourg Convention Centre and the exhibition centre.
Nextmed, a medical technology campus is the result of international cooperation in the fields of health (image-guided surgery, biomedical implants, robotics, medical device and digital health). Along with the presence of global leaders (Covidien, GE, Storz, Siemens), this campus has promoted the creation of 1,000 jobs and the setting up of more than twenty start-ups.
Parc d'innovation supports the development of the healthcare branch and brings together more than private stakeholders. The 7,500 m² offices and laboratories of the business park host some industry icons such as Novalix, Alsachim and Domain Therapeutics.
Quartier des Deux Rives is a large-scale urban project aimed at encouraging innovations in the fields of art, design, book and audiovisual industry, web and communication with the aim of creating 8,500 jobs.
Espace européen de l'entreprise gathers many regional, national and international businesses which work in the technology and tertiary sector
Port Autonome de Strasbourg offers an exceptional situation on the Rhine, with several possibilities regarding logistics and inter-modal exchanges (railway, road and waterway connections).