11,227 m² divisible office space for rent - Toulouse
11,227 m² divisible office space for rent - Toulouse
Toulouse (Haute-Garonne - Occitanie - France)
Office

Reference: AFR15484
FOR RENT
Rent excluding charges: 95.00 € / m2 / year

Toulouse, in the Occitanie region, is one of the most dynamic urban areas in France. It is also home to a major health and medtech cluster.
The capital of the Occitanie region is home to a multitude of large national and international companies, such as Alstom, AirBus, Siemens, Pierre Fabre, Renault, etc...
In this city, discover these new divisible offices of 11 227 m², available immediately, perfect to launch or develop your business.
Description of the property
Divisible offices for rent in the Occitanie region
These new 11,227 m² offices are divisible from 477 m² and are available immediately.
This building, comprising a ground floor and 6 floors, offers in addition to the offices for rent :
A car park with 68 spaces
A cafeteria/lounge
A wellness area
Access for disabled people thanks to a lift
A terrace and a garden with an outdoor area to be developed
An indoor car park with 186 spaces (500 € HT/u/year)
An outdoor car park with 140 spaces (250 € HT/u/year)
There is also a restaurant capacity within the building.
A strategic location
These offices for rent are 150 m from the bus stop, 800 m from the SNCF station (Halte Gallieni) and 10 km from Toulouse Blagnac airport.
The region's capital represents an opportunity for industrial investment, as the Occitanie region ranks first in France for industrial investment. This is in addition to a very pleasant and easily accessible living environment.
The city of Toulouse is well known for its place in the health sector, with two very important and influential health infrastructures, such as the Clinique Pasteur, ranked number 1 in France, and the Centre Hospitalier Universitaire de Toulouse, also ranked number 1 in France.
Whether your business is in the health sector or not, the capital of the Occitanie region is an ideal city for the development of your business.
Are you interested in these offices?
These divisible offices are for rent at a price of 95 €/m²/year excluding VAT.
Do you have any questions about this opportunity?
Contact us by phone or directly via the form on the right.
Technical features
Controlled temperature

Not defined

PRM adapted

Yes

Parking area

Yes
Financial conditions
Rent excluding charges

95.00 € / m2 / an
Access to the area
Motorways

< 20 min.

Regional trains, tramway and metro

< 20 min.

High-speed trains

< 20 min.

Airport

< 20 min.

International airport

< 20 min.

Public transport in the area

Yes
Key information
Type of property

office

Last update

31/10/2022

Minimum area

477.00 m2

Maximum area

11227.00 m2
Similar properties
See the ad
Type of property

office
Toulouse (Haute-Garonne), France
Business sector

-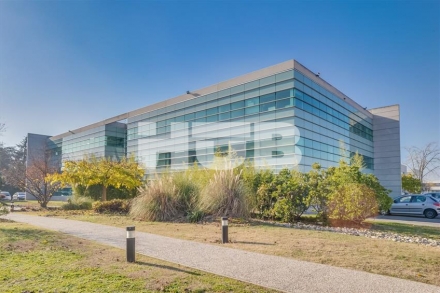 See the ad
Type of property

office
Toulouse (Haute-Garonne), France
Business sector

-